[Recipe] Chicken Namban from Miyazaki Prefecture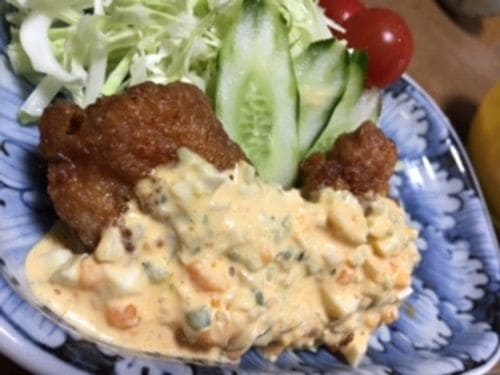 From Miyazaki Prefecture this home recipe of Namban as it is prepared in the houses of the area. A recipe with simple steps and with a very tasty result to try.
I offer you this recipe of mine that is prepared in the Miyazaki prefecture where I live. It is said that the first appearance of this dish dates back to 1964 where there is evidence of the first preparations of the recipe that I am now going to explain to you.
INGRDIENT ( 4 People) :

4 chicken legs (or breast in similar pieces) Salt Pepper
Flour Oil for Frying 1-2 Eggs

Nanban Vinagret:

4 tablespoons of soy sauce (about 60 ml)
6 tablespoons of sugar (about 78 g)
5 tablespoons of vinegar (about 75 ml)

For the tartar sauce:

1 - 2 boiled eggs (your choice)
Onions 1
salt
Cucumber or pickles
Lemon juice
5 tablespoons mayonnaise (optional)
1 tablespoon ketchup (of your choice)
1 tablespoon of sugar (about 13 g)



PREPARATION:
Start by cleaning the chicken thighs by deboning them but keeping the skin intact. Once prepared, pass them in flour so that they remain floured in all their parts.


Beat 1 or 2 eggs (depending on how much you need for the chicken pieces) and pass the pieces in by covering them one by one. Once prepared, shake them well, otherwise the excess egg leaves too much "slag" in the oil. Immerse them in the oil which must already be nice and hot for frying. Keep an eye on it, turn the pieces well and let them cook well until they have reached a nice brown color (but not burnt), so as to have a nice crunchy skin and meat.
While we keep an eye on the frying, let's start preparing the Namban Vinegret by putting all the ingredients in a saucepan and combining them well. Let them join together over the heat (not too high) so that it reduces in part and that a nice liquid and well-mixed room remains.
We add the chicken pieces that we fried to our vinagret so that they flavor well and take on the flavor, we leave it like this for the moment and start preparing our tartar sauce.
We take our cucumbers, or alternatively pickled gherkins if we want a more intense taste in our sauce. Let's cut them diagonally, then into strips and finally turning them we get squares all of the same thickness. We do the same procedure with our onion, trying to keep the same size as the cucumber squares.


We lightly salt the cucumber and onion mix and let them drain well. to ensure that they do not leave water, and to do this we can help ourselves by drying them with kitchen paper.

We boil the eggs and when they are ready and cooled we do the same thing we did with the other ingredients. Using a small tool that cuts the eggs into strips we can obtain our squares. We put everything in a bowl adding the mayonnaise, ketchup and a squeeze of lemon, mixing everything well.

Now that we have all our elements we can assemble the dish by adding a small garnish. What is missing? well! good appetite and enjoy my dish prepared for you.

Continue to follow our recipes, the flavors from the Rising Sun that you have tried on your travels and that you may want to try again at home.