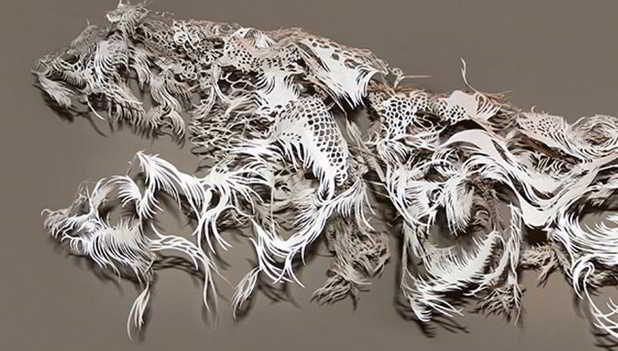 Nahoko Kojima, does the name tell you something? If the answer is 'no', let me introduce she to you. She is a Japanese artist who has been working for eleven years, but she started as a child, with the most common, fragile and delicate instrument at the same time: paper.
Forget origami which, however beautiful, is not what she does, she makes "Kirie", that is, literally "Carved designs" (the word kirie is formed by two kanji 切 kiri, means "Cut / cut", and 絵 and , means "Figure / drawing".)
But it is not only the mere realization of a finished product, among other things in a single piece because the washi paper sheet is only one, it takes the form of artistic performance in the seventeenth century, but it was already practiced in the Edo period, with also a background musical, in front of an audience, and was born, initially, in China, then exported to Japan in the seventh century.
Returning, in particular to the artist, Nahoko Kojima 小島 奈 保 子 is recognized among the five best in the field, so much so that she receives awards such as, for example, ArtPrize2014 and the last, the Kuwasawa Award in 2016 for her considerable artistic contribution.

Why did it become famous? Because her evanescent and graceful figures are on a large scale and suspended in the air, as well as for having exhibited or exhibited her creations, almost all over the world, including Italy, bringing a leopard to Villa Olmo on Lake Como , in 2012 (the work is visible in the gallery of his website http://www.nahokokojima.com/, thanks to the collaboration with the Cultural Association Arte & Arte https://www.miniartextil.it/it).
Another honorable mention, in his extraordinary curriculum of works of art, were the decorations for the windows of the Bulgari store in Tokyo, for the brides collection of 2015, the Human Collection project of 2018, and finally the last work, Sumi ス ミ, a huge crocodile, from 2019, exhibited at the Dulwich Picture Gallery Museum in London, in washi paper, painted gold.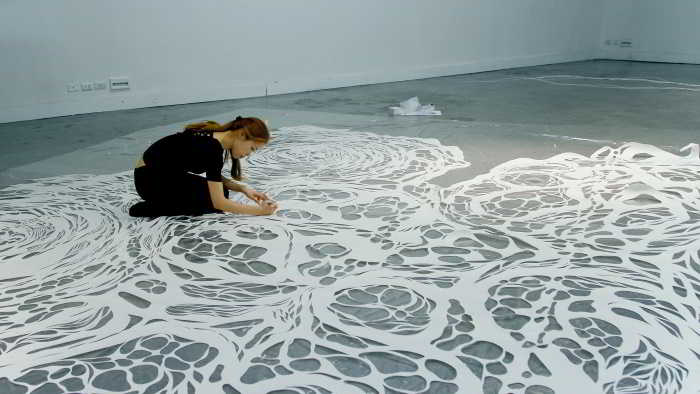 In addition to citations in many newspapers around the world, including fairly recent Forbes Japan, indicated in June 2019 in Kojima's ranking among the 100 most important "self made women" in the world https://forbesjapan.com/articles/detail/26431.
To describe his works you have to imagine an imaginative, natural, delicate, ethereal and elusive world, suspended, free and floating, like dreams.If you want to immerse yourself in wonder, I recommend that you take a look at his site.
Samantha Sisto