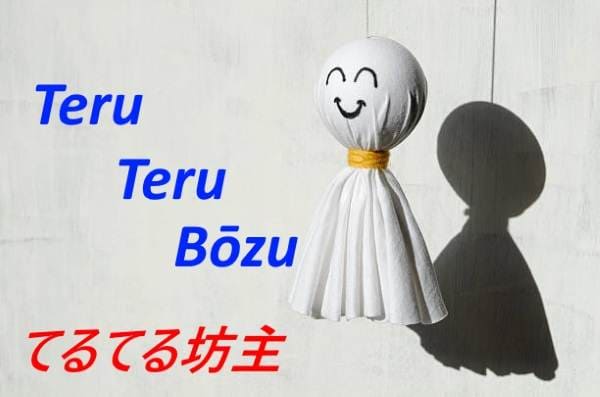 It's hard don't know the "little rain doll" this little talisman that everyone knows, from the kids to the adults and the elderly. A notoriety that goes beyond Japan, finding it as a habit in other countries of the world.

Its creation is really simple, so simple that even children build them, nothing more than a few objects like a little paper, fabric a thread and a pencil. Over time, various derivations were created with very different materials and new, spectacular and imaginative versions, but the basic form remains.
Once created just hang them to the balcony of houses, or inside by the window and "pray" because it does not rain. There is a rhyme linked to the Teru Bozu often reciting the children, we give it the original version:

てるてる坊主てる坊主
あした天気にしておくれ
いつかの夢の空のよに
晴れたら金の鈴あげよ
てるてる坊主てる坊主
あした天気にしておくれ
私の願を聞いたなら
あまいお酒をたんと飲ましょ
てるてる坊主てる坊主
あした天気にしておくれ
それでも曇って泣いたなら そなたの首をチョンと切るぞ

and here the translation of the text:


We find our Teru Bozu also in the beloved anime, in any series, when it happens that there are rains coming and the protagonists want the following day to be beautiful and special, build and "pray" the doll that draws the sun and pours rain all the costs, like our Creamy below:



Personally I never built one, but I saw Japanese friends and their children doing one. It is among those traditions of the Sol Levante that I like and cheer me up.