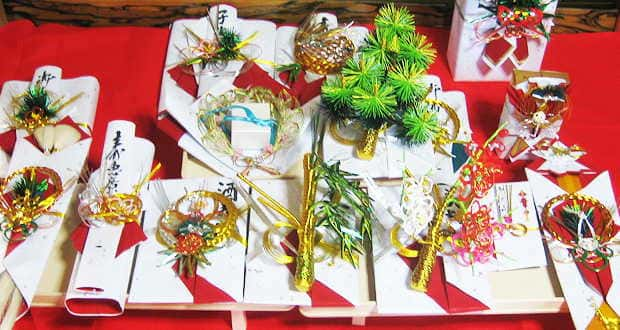 The tradition of Yuinou no gi 結 納 の 儀 seems to recapture more than 1600 years ago when Prince Emperor Nintoku's successor sent a series of family gifts to Kurohime to formalize their marriage.

Although same things changed over time it has been tied mainly to a certain Japanese population class (cause the cost of that ceremony), it is part of modern Japan, where the exchange of gifts among the spouses families usually takes place in hotels or restaurants of a high level with "gifts" that recall the tradition.

The "offers" that come within the tradition include a "obi" (the "band" that surrounds the kimono), kimono fabric with objects like a Japanese foldable fan, dried bonito, dried millet and dried squid that have a Strong appeal to tradition, although lately it is becoming more common to send a cash present.

Presented gifts are served on simple, clean wooden shelves that represent the "purity" of the couple's love and marriage. The "ceremony" usually takes place in a hotel or restaurant of a certain rank to define the suntuosity of the event. The owner, restaurant or manager's wife is called Okamisann and gives the explanation of the various presents presented so as to describe the meaning and the bond with tradition.