Hello to everyone, today I thought to you passionate, lost (like me) among a thousand goodies outgoing or backward .... what to do ?? Here .... as long as we do not find some figures that can surprise us and amaze you, I thought you were going to let me know about this version of Cyborg 18 that I think is pretty cute.
This version I really liked for her dynamic pose, as if it was posing waiting for someone (maybe Crilin?), Wavy hair and arm raised to raise the clump. Of this character we find other versions, one for example, was forward in attack, others almost dancing, but I really like that.
The figure has a height of about 16cm made of pvc material with a price that is placed in an average bend not too high.
What goes straight to the eye is the quality of the model, the production. It seems to see the fabric of the Jeans, the veils of the shirt that stand out. The colors are well-dosed, not too flashy and the color of the skin and eyes that make so much "Manga", which at the same time reproduce the expression in the anime.
The height of the character and the suit suggests that it is set after the Battle of Cyborg, I would have wanted to see it made with the original dress but after all I realized that the Cyborg Battle Dress, miniskirt and jeans in the body, black body for chest and legs (probably a tight-knit fiber) was pretty classic, but this new neckline dress with a Crilin-style medallion makes a lot of scenes. In short a nice model.
Moving to the details are their eyes with their long cut, the round pharaonic pupils with the dot do very "bad" but she is just so if you look alive it looks like a ruthless killer with very precise movements but then it is extremely curious and if you take in the right way becomes very docile and friendly (with those killer eyes). That's why I like this character, Punk style with a personality Tsundere is the most, certainly to show in the showcases and show her satisfaction.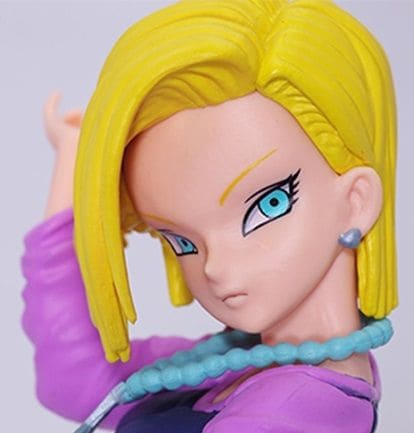 I would love to know your impressions regarding this model. I am very curious to know what other people think of me as they have particularly impressed me.