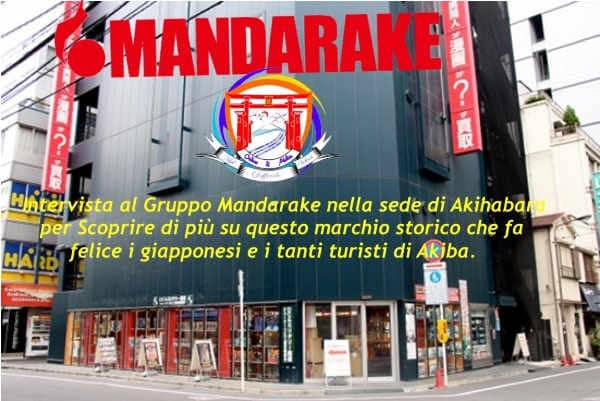 Mandarake is one of the symbols of Akiba, one
chain with many stores scattered around Japan
and known by all game lovers, figures, souls and
much more not only among the Japanese. Let's find out more with the interview with Yamamoto Shinya from the PR department in Mandarake.

THIRD FLOOR (Manga, posters and other publications):


FOURTH FLOOR (reserved for doujinshi, light novel and adult material):



FIFTH FLOOR ( doujinshi, BL novel e BL manga) :
SIXTH FLOOR ( Cd, DVD, Bluray e Giochi) :
SEVENTH FLOOR ( Toys and Cards ) :


EIGHTH ( Toys) :
Now that you have an idea of ​​what it is Mandarake and what you can find, let's move on to our interview with Mr. Shinya Yamamoto.

Mauro: What led to the birth of Mandrake? (because it was born, a small history of the brand up to date).
Yamamoto: Regarding the story of Mandarake, the president of the company initially ran a book and comic shop together with another enthusiast partner. This partner then stopped the business and he went on alone, thus realizing that the customers really appreciated being served by equally passionate and knowledgeable staff as they were themselves and that the business could expand rapidly. He founded the headquarters in Tokyo, Nakano Broadway.
At the time, the buying and selling of used books used to establish the purchase and sale prices based on the individual customer and on his appearance without creating actual price plans and notifications. This involved behaviors such as buying lower-than-used people who seemed to need money and would therefore be satisfied anyway.
To counteract this somewhat unpleasant behavior, Mandarake began to decide the target price directly to the object itself and its quality and to establish real price tables, data and so on. Mandarake was also the first used comic book shop in the country, and when this was first noticed and published in a newspaper, a long line of files was created in front of the store the next morning.

Mauro: What is the philosophy that distinguishes Mandarake? (company philosophy towards customers and their employees).
Yamamoto: Regarding the mentality and ideal of Mandarake It is a discourse that should primarily concern every business, but obviously the main purpose is to satisfy the customer. There are obviously different requests and needs, but respecting this concept is the basis. At Mandarake we primarily want to satisfy customers when they come to sell their used goods by giving the goods a favorable price for them and then we want to sell them at prices for which even the buyer is satisfied. It seems a very simple concept, but it is actually a difficult and accurate job, so much so that other similar activities can not imitate it.

Mauro: Was it easy for the Japanese to bring their things they are fond of or have to sell them? Today in Japan I have noticed that it is a rather common thing, but at the beginning of your activity? We talk about the 80s right?
Yamamoto: There are obviously people who do not want to separate themselves from their rare and precious things. In the event, however, of having to separate, rather than throw away the objects collected with such passion, many prefer to entrust them to a place where they are evaluated and considered for their actual value by expert staff.

Mauro: Mandrake is not just vintage or modern games, there are figures, we find manga, anime, music CDs, cosplay and much more. Have these activities been added together with the creation of the store or integrated over time?
Yamamoto: At the beginning Mandarake took care of manga and in small quantities also of doujinshi (private publications written by fans and not published by official publishers), but the main product was the manga.