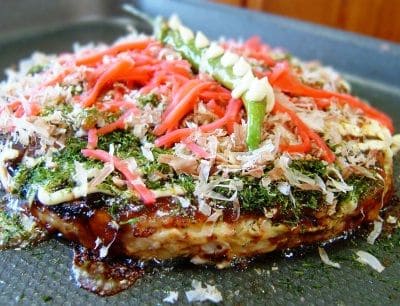 The okonomiyaki お 好 み 焼 き is one of Japan's characteristic dishes and precisely one of Osaka's specialties that many know and love. Here the recipe for you to try to make them at home.
The recipe for okonomiyaki provides many variables depending on the taste that one prefers, because there are many types, such as those with meat (mainly pork), fish, vegetables, and many more.

What I show here is the "base" version, so let's call it the favorite parts you can add to enrich it. In the recipe there are ingredients that may not be easy to find, although nowadays in many cities there are so many ethnic shops and more and more supermarkets in the big distribution have their ethnic shelves in their shelves.

INGREDIENTS :
An average cabbage
5 eggs
5/6 slices of fresh cut bacon thin
6/7 spoons filled with flour
2/3 cup of lukewarm water
hondashi (granular broth)
goods shoga (red ginger in brine)
mayonnaise
sauce from okonomiyaki
aonori (dry algae strips)
kazuo (fillet of dried tuna and made to thin strips)

PREPARATION:
Begin washing and squeezing the cabbage leaves well, once ready we begin to slice it as thin as possible, taking care to remove the thickest shingles.

Take the shoga goods and cut it into small squares and add it to the bowl in which you put the crushed cabbage. Shoga goods could be one of those difficult to find ingredients, but it is not one of the indispensable ones, it gives a more decisive taste to the keniomiyaki but you could do it.

In the cup of lukewarm water, dissolve half a hondashi sachet (granular broth) and let it reel for good, in the meantime break the eggs by baking them well and add the flour (preferably sifted to avoid lumps) and the "broth" dissolved in the cup. Mix all well until you get a homogeneous, dense, not too watery compound.

Now take a smaller pebble and a handful of cabbage and shoga preparation and add the previously prepared egg mixture. Mix well so that all parts are well-blended.
If you were in Japan at the restaurant you would get everything ready in a cobble to prepare as you can see below. Follow the picture to get an idea of ​​the procedure to follow below.

Preparation is complete, if you like seafood or fish, you could add pieces of octopus, or thin cut cuttings to enrich everything.

Let's go to cooking. In a nice warm smooth plate or a large non-stick frying pan, put the bacon slices on the heat, make it brown and take the prepared mixture before. Give him a dress and then put it on the plate trying to widen it a bit, a kind of mega omelette, which reaches at least a finger thick, and let it bake.

Check the cooking, okonomiyaki must make a nice colorful crostick, when it will be so you can turn it on the other side bringing it to the end of cooking.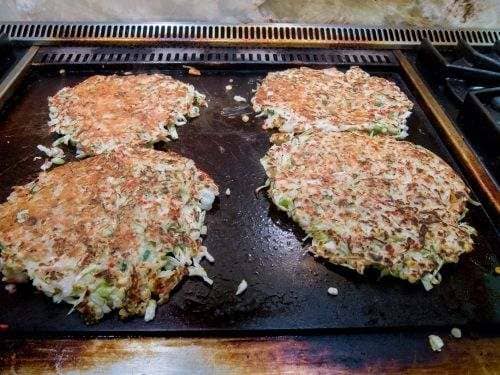 When ready, personalization time comes with sauces and more. In Japan, they use so much the mayonnaise that they squeeze it well on the mukomiyaki by drawing streaks on it, but first brush it all with a sauce for okonomiyaki that you will surely find in ethnic shops or large supermarkets such as Otafuku, Ikari (い か り) the Fugetsu (風月), but there are many more.

Spread the stripes of aonori and finally the kazuo light-hearted cartons to close everything, you just have to eat and enjoy this delight. In Japan there are envelopes where there is already a kind of prepared flour and ready for use, much easier to use. Some recipes also include the use of starch because it has a thickening effect.