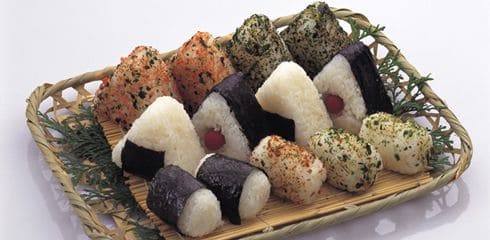 umeboshi (

A salted brine plum

)

shiojake | shiozake (Salted and cooked Salmon)
katsuobushi or okaka (Boito in soia souse)
shio kombu (Salted Kombu seaweed)
tarako (

Salted cod eggs

).

The beautiful of Onigiri are their versatility and the fact that each one personalizes them according to their tastes, so they are so popular to anyone (child or adult) eats them.


Following the original recipe, the problem that you might have is to find the rice that is used in Japan, is thin, "fine greasy", the uruchimai (粳米), a type of rice that once cooked maintains the form without
Get rid of too much. But you
can choose the rice that you find the best, even here it tastes and adding a recipe to your needs is never bad.
The first important step

is to wash the rice, in a bowl, put the rice with plenty of water and start rubbing it, you will notice that the water becomes cloudy and white, continue (changing the water) several times until it is clear (or
almost).
Once done let it drain it calmly.
The second step

is cooking the rice.
In a saucepan, let boil the water slowly with the rice and keep it covered.
When boiling begins to raise the fire to the end of the cooking (which absorbs all the water).
Let it rest (at least 10 minutes) and then turn it all over.
Third step

is make the onigiri.
Once cooled can start working on it.
We all know that onigiri are triangular, but does not mean that it is an obligation.
In recent years, to vary and be even more trendy, many give it different shapes, so follow your tastes.


Dampen your hands (avoid sticking rice), put some salt, take some rice and put it on your palm.
Make a hole in the center where you will fill the "filling" with the taste you like.
Quit well for not getting out and start giving it the shape you like.
Last step

Nori Seaweed.
This last step will give the classical form of the allusions we all know.
This particular eaweed is now in the big supermarkets, in the middle and ethnic ones, it's easy to find, you should not have too much trouble