The Hyoutan Onsen Beppu
HOW TO GET THERE: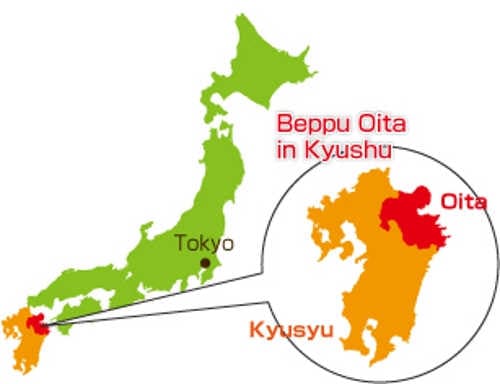 From Tokyo

you can take

Tokaido / Sanyo Shinkansen

to Kokura where you will change train, Sonic Limited Express, to get to Beppu Station.
The journey will last about 6 hours and the cost is around 25,000 yen.

For those who have the Japan Rail pass the journey stretches a bit because you can't take shinkansen like the Nozomi, so you have to take the Hakari and Sakura and make a further change to Shin-Osaka.
It saves but it stretches a bit.


For those who depart from

Osaka

, everything is closer and the changes are limited to 1. Look forward to timetables and changes, making life easier.
In both cases the trip, albeit long, is convenient, especially when you arrive in Kyushu.


Arriving at Beppu we have to take a bus and we can opt for 2 choices:

Oita Kotsu Bus

to

Kannawa Onsen

going down to

Jigokubara Bus No. 20

at a cost of 330 yen;
Or Kamenoi Bus to

Kannawa Onsen

and get off at

Kannawa Bus No. 26

;
Once you have walked for about 6 minutes and you will arrive at your destination.

ONSEN FEATURES :
They will give you another key that will allow you to use the lockers inside the locker room where leave your clothes and your belongings (4); This key is shaped like a bracelet so wear it and bring it with you safely during your bath.

These onsen are not mixed, so there are separate spa for men and women, here is a map of the structure to give you an idea of what you will find inside: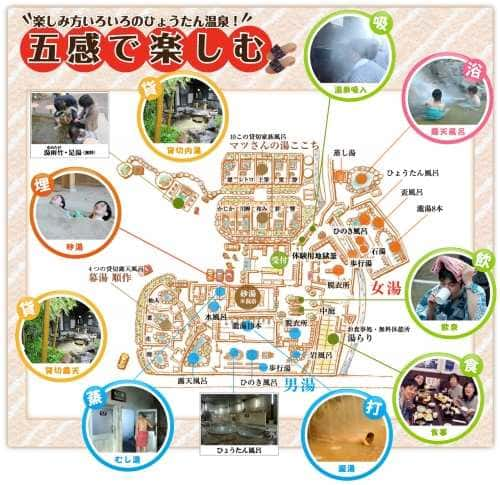 Great truth? It's really a nice place. It is divided into baths for women (the part on the other right) and that for men (the bottom part), with common areas at the exit, and a dining space inside where to eat. Always respect the rules of Onsen I recommend.

This is the area reserved for women:

This is the area reserved for men: