[ENG/JPN] Tradition and Passion still live in the Kodama Shop
In the south of Kyūshū, in the beautiful city of Miyazaki, there is a small family-run shop, which has been carrying out tradition and passion for
the Kimono for more of 40 years. I bring you to know the Kodama Family and their professionalism in creating these incredible garments, an artisan work that keeps the tradition alive. In Japan there is something that represents its charm, its attraction, everything finds its essence in something that everyone in the world know, the Kimono. I don't speak of a simple traditional "dress", but of the whole spirit of Japan itself: grace, professionalism, love and passion.
On my trip to Miyazaki I was lucky to meet a family that has been carrying out the knowledge and the art of creating kimonos for 3 generations. The Kodama family started the business more than 40 years ago in the small shop in the city, and the founder was the grandmother of the current owner (Kensaku Kodama), who had left the business to his son, Mr. Kenichi Kodama (father of Kensaku Kodama) who managed it (and still works inside still today) with his wife Mrs. Kanako Kodama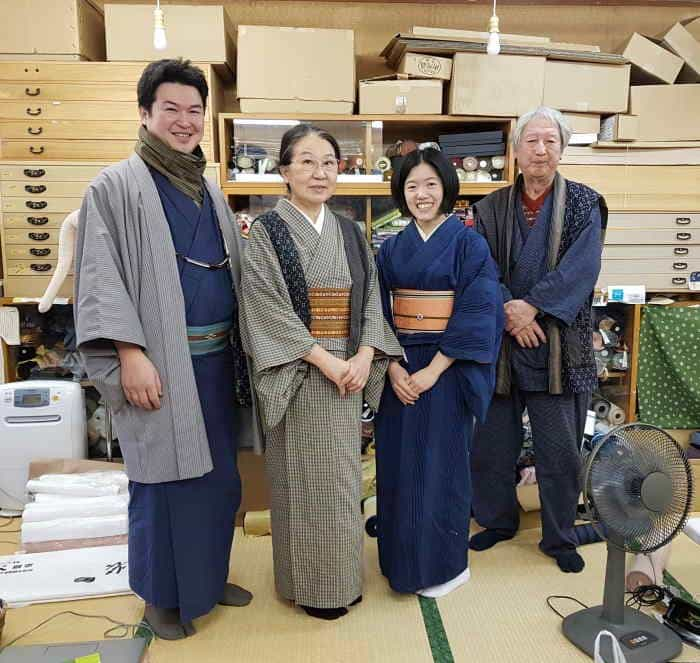 From left Kensaku Kodama, Mrs Kanako Kodama, Akino and Mr. Kenichi Kodama
To help this family there is a girl, Akino (that is studying and speaking a bit of English), also guided by her passion for the Kimono. Already from the high school she studied the way to be able to follow his love for this traditional dress (it is precisely her words "love for the Kimono"). So much that at the age of 18, after finishing high school, she started working at a laboratory shop in Nara, where continued to work for 4 years, where she was able to learn the art of Kimono from the owners. As often happens in Japan, art and crafts are learned directly in the "workshops" because it is there that the new generations really form, where knowledge goes and must be transmitted, so that it is not lost. After his 4 years at Nara Akino he moved to Miyazaki and began his work at the Kodama Family Shop.
Speaking with Mrs. Kanako (who knows a bit of English) and Mr. Kenichi (a slightly shy person, but very kind and interesting), the passion and the pleasure for the job they do shines through. We are not talking about a "simple" store that just makes clothes, but we find there tradition, culture and the knowledge left by previous generations.
The Kodama family, that in addition to the son that is the president of Someorikodama (the legal name of the family business), has two other son (a Japanese cooker and the other one a nurse) is known for their work outside the borders of Miyazaki. In fact, you can find the kimonos they make all over Japan. I happened to see the preparation of finished garments that are packaged and arranged for shipping, which they will leave for kyushu but not only there, some will take the direction of Kantō (to understand the region of Tokyo) and Kansai (the region where is Osaka and Kyoto).
I wanted understand how this reality of "family business" works, so I asked what could be the possible cost of a kimono that I would like to buy and what I needed. The first and fundamental question they asked to me was when I will wear it, because knowing seasonality is necessary for choosing the type of fabric to use. For spring or summer, it must be a light fabric, an inverse discourse for an autumn or winter seasonality. The fabrics they use are the highest quality and most come directly from manufacturers, others from trusted retailers who deliver them from all over Japan.


In the picture in the left Akino and Mr. Kensaku Kodama

After explaining that I didn't have a real preference on what season I needed (because unlike the Japanese, back home I would not wear it on many occasions, I would say rarely), they showed me some rolls of fabric (in Japanese call Tanmono 反物 ) to decide the color and the style remaining on a garment to be worn on any occasion. I must be honest, this is the hardest part. There are many beautiful fabrics, with colors and textures of all kinds. You can stay on the classic or use a more fashionable and modern style. Small personal thinking, I don't mind experimentation with new models or fabrics, they are used to make a step forward, but there are cases in which the classic is what makes the difference, and in my opinion in the Kimono is so.
Once the fabric has been chosen, it passes to the Obi, or the "belt" that surrounds life and holds the kimono. For this too there is the embarrassment of choice because there are many types: narrow, wide, dark or light, traditional or more modern.

Made my choices and tried as the fabric looked on me, we talked about the costs (I will not talk about them because every choice, every model, every addition or less affects them) and the time it takes to prepare the dress. Normally the creation of the Kimono (and here we are talking about kimono for men, because the one for women is more complex) requires at least 1 month and a half if not more.
As mentioned before, the Kodama family sends its creation to all over Japan and this amount of requests affects the time of preparation and shipment of your order. I guarantee you, I have seen stacks of kimonos and orders to be completed, incredible if you think of that "small" but warm and welcoming place.
Part and shop used for processing and preparation Kimono

This is in short my experience at Miyazaki's Kodama store. I wanted to focus not only on the part of the fabrics, the Kimono and their importance for this family and for those who buy them, but to talk about a welcoming reality in which I found myself. A place in where the passion and the daily commitment to create these incredible garments shine through. The passion of people that for three generations carry on the family name and their idea and professionalism.
I want to thank Mr. Kanichi, Mrs. Kanako and Akino for the time they spent talking with me about their business and their activities. I thank Mr. Kensaku Kodami, their son and representative of the shop, that shared his time with me.
I made new friends, I learned more about Japan and this is what the Kimono represents for the Japanese. Thanks to them, their kindness and welcome, I was able to appreciate an art, a trade that I knew only in large lines.
I don't want get mad anyone who reads this article and knows big kimono shops, with spaces specially designed to test the dress, to measure it or large displays with exposed fabrics, but I love this little shop where the spaces are not large but for this it all more warm and welcoming. I perceived and found in that place a corner of real Japan as it once was.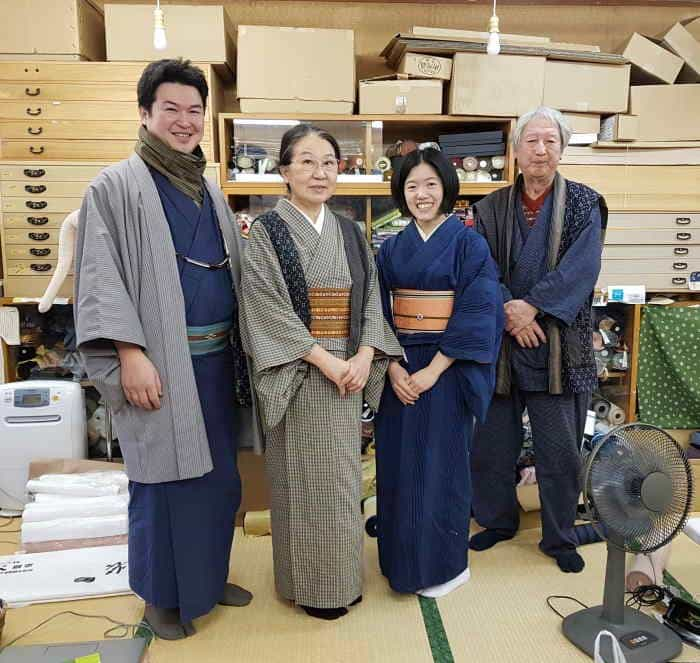 Thank you Kodama Family and I hope see you soon.

For those wishing to know more about this store, their activity and their work I leave you their website www.someorikodamas.com/ e Fb www.facebook.com/someorikodama/, I recommend you go to find them.
九州の南部、宮崎に40年の伝統と着物への情熱を追及している小さな家族経営のお店があります。
今回、私はこの児玉さんご家族から着物に対するあたたかな情熱を感じました。
日本には誰もがその魅力に惹かれる"着物"があります。
世界の誰もが魅力的な日本のものというと"キモノ"を思います。
私は着物はシンプルで伝統的な着るものではなく、
日本のスピリット、優美、愛、情熱が着物であると思います。
今回の宮崎旅行で 3世代に渡り着物の知識、技法を継承している児玉さんご家族に出会えたことは私にとって幸運でした。
"染織こだま"は 創業40年以上、現在の経営者児玉健作さんの祖母がはじめました。
今も健作さんの両親(けんいちさん、かなこさん)も一緒に働いています。
そしてもうひとり、少し英語の話せる、アキノさんも一緒に仕事をしています。
彼女は高校生の頃から伝統衣装であるキモノの研究をしてきました。
高校を18歳で卒業した後、4年間奈良で働きながら着物について学ぶことが出来たそうです。
若い世代にとって、伝統芸術、技能などは直接実践で学ばなければ習得することは出来ません。
アキノさんは奈良での4年間の後、宮崎に引越し、"染織こだま"で働き始めました。
かなこさん(少し英語を話せます)とけんいちさん(少しシャイですが、とても親切で楽しい人)はこの仕事に情熱と喜びを見出しています。
簡単な服を作るお店の話をしているのではなく、伝統・文化が代々受け継がれているお店の話しです
"染織こだま"の社長、健作さんには他に2人の兄弟がいます。(一人は調理師、もう一人は看護師です。)
この児玉家の着物は宮崎の外でも知られています。
事実、彼らが作った着物は日本中で見ることが出来ます。
ちょうど私は彼らが作った着物を梱包し、全国に送る工程を見ることができました。
九州の宮崎から、関西、関東までにも渡って着物を送っていました。
私はこの"染織こだま"の着物がいくらぐらいで手に入るのか知りたくなりました。
彼らが教えてくれたのは まず、どの季節に着たいのか、
布の種類の選択の基本として、春夏は薄手で軽い素材。
秋冬はそれとは反対に温かな厚手の素材とのことでした。
彼らの使う素材は最高品質なものを彼らが信用する生産者から直接運ばれてきます。
私はどの種類を選ぶとはっきり言えませんでした。
というのも、自分の国(イタリア)に戻った時、着物を着る機会があまりないと思ったからです。
でも、児玉さんたちは色、スタイルを決めるための様々なタイプの反物をみせてくれました。
伝統的な古典のもの、よりファッショナブルで最近のスタイルに合うもの。
正直に言うとその選択が一番難しい点でした。いずれも美しく、素晴らしいものだったからです。
私は新しいデザインの反物より古典的なものに惹かれました。
一旦、反物を選ぶと次に帯(キモノを留めておくベルト)選びに移ります。
これもたくさんの種類があります。
幅の広めのもの、狭いもの、暗い色のもの、光沢のあるもの、
伝統的な模様のもの、モダンなデザインの模様のもの。
一通り選ぶと どの位の日数と費用がかかるかを話しました。
着物は女性用の方が複雑で男性用よりも工程がかかります。
私(男性用)のものでも 少なくても一カ月半を必要とするそうです。
費用はそれぞれの着物、帯の選択で変わってきます。
今、"染織こだま"の着物は日本全国からたくさんの注文があり
先に話したように一か月半以上の日数がかかります。
"染織こだま"は少人数の家族で作業をしているため、出荷までに時間を要するのです。
私は彼らの着物が日本全国に発送されていくのを見せてもらいました。
そこは、ちいさなそしてとてもあたたかな家族経営のお店でした。
これが宮崎県にある"染織こだま"での私の短い体験です。
私が紹介したかったのは、彼らの着物の商いについてではなく
彼らから温かい歓迎をうけたことに対する感動を話したかったのです。
素晴らしい衣類(着物)を毎日続けて作っている彼らの情熱。
三世代に渡る彼らの着物に対するプロ意識の情熱です。
健作さん、ケンイチさん、カナコさん、アキノさん、着物のこと、仕事のことを
説明していただき、時間を割いてくれたことに感謝いたします。
私は着物を通して日本について多くを学び、そして新しい友人を作れたのです。
大きな都市には、おしゃれで大規模な着物のお店がありますが、
私はこの小さなあたたかなお店"染織こだま"のほうが好きです。
児玉家のみなさん、本当にありがとうございました。
そして、またお会いしましょう。

彼らのwebサイトです。。
www.someorikodamas.com/ Facebook page www.facebook.com/someorikodama/