The rebellion of Satsuma 西南戦争 Second Part

Second part of the story of one of Japan's most important battles in the Meiji era, Satsuma's rebellion.

Siege of Kumamoto Castle

Satsuma's avant-garde crossed the Kumamoto Prefecture on February 14th of 1877. Kumamoto Castle Commander, Tani Tateki, had 3,800 soldiers and 600 police officers at his disposal, but most of the garrison was in Kyushu and since many officers were native to Kagoshima, their loyalty was questioned and to avoid disagreements or defections he was determined to stay on the defensive.
On 19 February, there was the first clash of war when Kumamoto Castle defenders opened fire on Satsuma units who were trying to open the way to the castle. The Kumamoto Castle, built in 1598, was one of the strongest in Japan but Saigo was confident that his forces would be more than equal with the farmer conspirators of Tani, who were still demoralized by the recent Shinpuren rebellion.
On February 22, Satsuma's main army arrived and attacked the Kumamoto Castle in a maneuver to sting the assault continued until the imperial forces retreated and Major Nogi Maresuke of the Fourteenth Regiment of Kokura lost regimental colors in In the course of fierce fighting, however, despite the successes, Satsuma's army failed to take the castle and realized that the armed army was not as inefficient as it was at the beginning.

After two days of unsuccessful attacks, Satsuma's forces digged into the icy ground around the castle and tried to rent the garrison for hunger with a siege. The situation was particularly desperate for the defenders as their food supplies and ammunition had been consumed by the fire of a warehouse just before the rebellion began.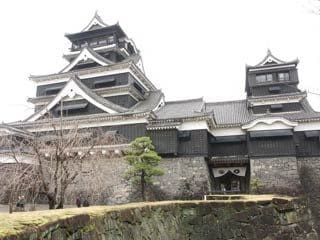 Kumamoto Castel 熊本城

During the siege of the castle, many former Kumamoto samurai passed under Saigo's flag, extending its line up to about 20,000 men, on March 9, Saigo, Kirino and Shinohara were taken away from their ranks and court titles.

On the night of April 8, a force from the Kumamoto Castle made a rush, opening a gap between the lines of Satsuma and allowing supplies desperately needed to reach the garrison. The main imperial army, under General Kiyotaka Kuroda's command with Yamakawa Hiroshi's support, arrived in Kumamoto on April 12, and Satsuma's heavily overwhelmed numbers withdrew.

Battle of Tabaruzaka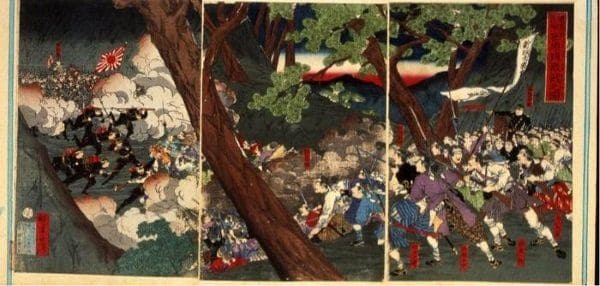 On March 4, General Yamagata of the Imperial Army ordered the assault on Tabaruzaka, controlling the approaches to Kumamoto, the assault turned into a battle for eight days. Tabaruzaka was controlled by nearly 15,000 Samurai of Satsuma, Kumamoto and Hitoyoshi against the 9th Imperial Army Infantry Brigade (nearly 90,000 men). At the height of the battle, Saigo wrote a letter to Prince Arisugawa, reaffirming his reasons for going to Tokyo. His letter indicated that he had no intention of rebellion and instead sought peaceful accommodation. But the government refused to negotiate.
To cut Saigo out of its base, an Imperial Force with three warships, 500 policemen and several infantry companies, landed in Kagoshima on March 8, took over the arsenals by taking over Satsuma's governor.
Yamagata also landed a detachment with two infantry brigades and 1,200 policemen behind enemy lines to get over them behind Yatsushiro Bay. Imperial forces landed accusing a few losses, then moving north to the town of Miyanohara on March 19th. After receiving reinforcements, the imperial force attacked the Satsuma army's retrograde elements and turned them back.
Tabaruzaka was one of the most intense war campaigns. Imperial forces emerged victorious, but with heavy losses on both sides. Each line had had more than 4,000 killed or injured.

The retreat from Kumamoto

After the failed attempt to take Kumamoto, Saigo led his men in a seven-day march to Hitoyoshi. The morals of men were extremely low, and as there was no clear strategy for doing so, Satsuma's forces cowered in anticipation of an upcoming offensive in the Imperial Army, but the latter was equally exhausted, so the fighting was suspended for several weeks.

When the offensive resumed, Saigo retired to Miyazaki, letting many saucers of samurai leak behind the hills to lead guerrilla attacks. On July 24, the Imperial Army managed to get Saigo from Miyakonojo and then Nobeoka out. Troops were landed at Oita and Saiki north of Saigo's army, which was then trapped in a pounding attack but through fierce fighting the Satsuma army managed to break the encirclement, but paying a high price, so the losses reduced only 3,000 active fighters and lost most of the modern firearms and all his artillery.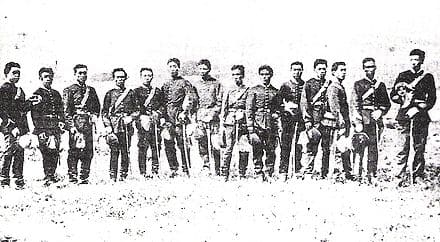 Imperial Offical Army, 1877

The rebels survived these battles on the slopes of Monte Enodake but were soon surrounded. Determined not to let the rebels flee again, Yamagata sent other army departments until he surpassed the Satsuma army of 7 to 1. At this point, most of Saigo's remaining forces surrendered or executed seppuku, term which identifies suicide by blade and known to us by mistake, such as harakiri. But August 19, Saigo, having burned down his private letters and army uniform, managed to find a way to lose his tracks by going to Kagoshima with the remaining men. Despite the efforts of Yamagata during the next few days, Saigo and his 500 remaining men reached Kagoshima on September 1 and conquered Mount Shiroyama, who ruled the city.
The Battle of Mt. Shiroyama
Saigo and his remaining samurai were sent back to Kagoshima where a last clash, the decisive one, was the Battle of Mount Shiroyama, in which the troops of the Imperial Army under the command of General Aritomo Yamagata and the departments under the command of Admiral Kawamura Sumiyoshi surpassed Saigo's number from 60 to 1. Yamagata was determined not to leave anything to chance.

Imperial troops spent several days building an elaborate system of trenches, walls and obstacles to prevent another escape to Saigo, then wield five governmental warships in the Kagoshima harbor that added their firepower to Yamagata's artillery, and began to systematically reduce the positions of rebels. After Saigo rejected a Yamagata letter of September 1, where he was asked to surrender, Yamagata ordered a complete frontal assault on September 24, 1877 and by 6 am the following day, only 40 rebels were still alive. Saigo was seriously injured.
Legend tell that one of his followers, Beppu Shinsuke, acted from kaishakunin and helped Saigo make seppuku before he could be captured but there would be other evidence contradicting this version, saying that Saigo actually died of a bullet's wound and that then his head was cut off by Beppu in order to preserve its dignity.

After the death of Saigo, Beppu and the last samurai took their katane and rode down the hill to imperial positions until the last one of them was overwhelmed by Gatling machine guns, which came from America, so with these the last deaths, Satsuma's rebellion came to an end and one of the bloodthirsty pages of Japan's history came to an end.
These historical events have been recaptured in a film by Edward Zwick "The Last Samurai" film really well done and nominated for four Oscars and three Golden Globes featuring top-ranking actors from Tom Cruise to great Ken Watanabe and the beautiful as well as very good, Koyuki Kato.