Purikura プリクラ Photos between Fashion and Fun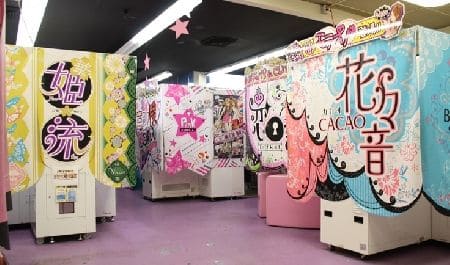 Purikura プリクラ are now a must among Japanese girls. Found all over Japan, these small photo machines that allow fun modifications are now one of the symbols among the young people of the Rising Sun.
Anyone who has visited a classic Japanese arcade ( and who wouldn't :D ), will have noticed entire floors where there are strange colored cages, and surrounded by girls of all ages who laugh and have fun.
At first I didn't understand what they were, and above all I couldn't understand what kind of video game could be so popular for girls that they created real files. Then my Japanese friend explained to me why this trend among Japanese boys (or rather, mostly Japanese girls).
Purikura made their appearance in Japanese arcades in 1995 and were seen with extreme curiosity but few would have thought that those little machines would become a Must, a sort of status among young people, who in Japan has never done so? even for tourists it is an experience to try.
Their subsequent is certainly determined by the fact that they are not simple photos, but rather colorful and fun memories, because the photos can be modified at will before being printed (making you even more beautiful than the real thing).
Here's the beauty of purikura, having the photo modified as you like, with the ability to add writing, drawings and lots of fun elements. Just select the type of photo you want, enter the box, you can also choose the background (a roller rotates behind you with the chosen background) and then wait for the flash to pose.
Once finished you can go out and wait at the monitor, your photos will appear there (it is possible to take more than one) ready to be modified in the way you like best, having fun and letting your imagination run wild.
By now they have become a fashion and as such they have expanded dramatically throughout Japan, we find many types, each with its own characteristics, with different possibilities for editing photos, and lately even combined with cosplay. Yes, because it is possible to rent a costume and then be photographed, thus obtaining a very special photo.
There are entire floors dedicated to purikura, many even reserved for girls only, for example those where you can rent a costume for photos.
I really enjoyed trying it and I keep the photos very fondly because they are a good memory of those days spent in Japan. Photos can vary in size, but are never too large; they are adhesive and can be attached anywhere, in fact you may see them in notebooks, diaries or even on mobile phones.
When you go to Japan, please try the experience, but be careful, because in some there may be limitations, and unfortunately they are limitations for us boys. And yes, it's possible for one girl to go and take the picture alone, it's possible for several girls and for couples, but not for guys alone :( , so double check before entering the box ;)